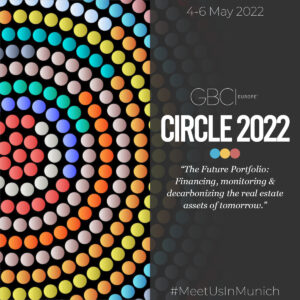 GBCI Europe Circle 2022
4-6 May 2022
Munich, DE
GBCI Europe Circle 2022 is the new boutique conference for Europe's LEED consultants, property owners and investors; it replaces Greenbuild.
This year's theme is "The Future Portfolio" and the program includes a wide range of sessions covering compliance, financing, performance monitoring, decarbonization and more – all in a European context.
Just one of the highlights will be a "Green Building Matters" live-audience podcast recording with USGBC president and CEO Peter Templeton.
For more information, including confirmed speakers and the program schedule, visit our event page: bit.ly/gbcieurope_circle2022